1.888.335.4533
Become a supplying contractor of DelphiTech today!
New 2018 Contractor Program
Ask us about our contractor incentives when you setup your account.
Offer your clients a new choice this year with DelphiTech's premium lights. Here are 8 of the benefits for become a registered installer with us early in 2018:
Pricing - price margin incentives and contractor promotions
Get ahead of your competition - NOT sold in stores or supply houses
Marketing Brochure - customized with your contact info, not ours
Brand Association Graphic - for your own marketing material or online ad
New 2018 Warranty - over 10 yrs (90,000 hrs in heavy use) warranty option
Direct Referrals - leads go directly to you, we provide client incentives
Free Install Expertise - best practices with our product to save you time
Free Design Help - for unique lighting designs with established installers

Marketing Brochure to Give to Client Prospects
Print this BROCHURE to explain to your clients how our lights are different.
Options for rectangular box on the brochure and usage:
Print and attach your business card to this sheet, and laminate it to carry with you when quoting clients
Send us an image of your business card or what information you want us to add and we will make a custom PDF for your business
Approved for contractor use for printed handouts or emailing to clients
Do NOT use for any online postings or ads, instead use graphic below

Brand Association Graphic for Your Ads
Download this brand association Registered Installer graphic in JPG format to use in your marketing including online ads and postings.

Options for usage:
Can be used unaltered in any ads including online ads and postings
Can be embedded unaltered in any of your own marketing materials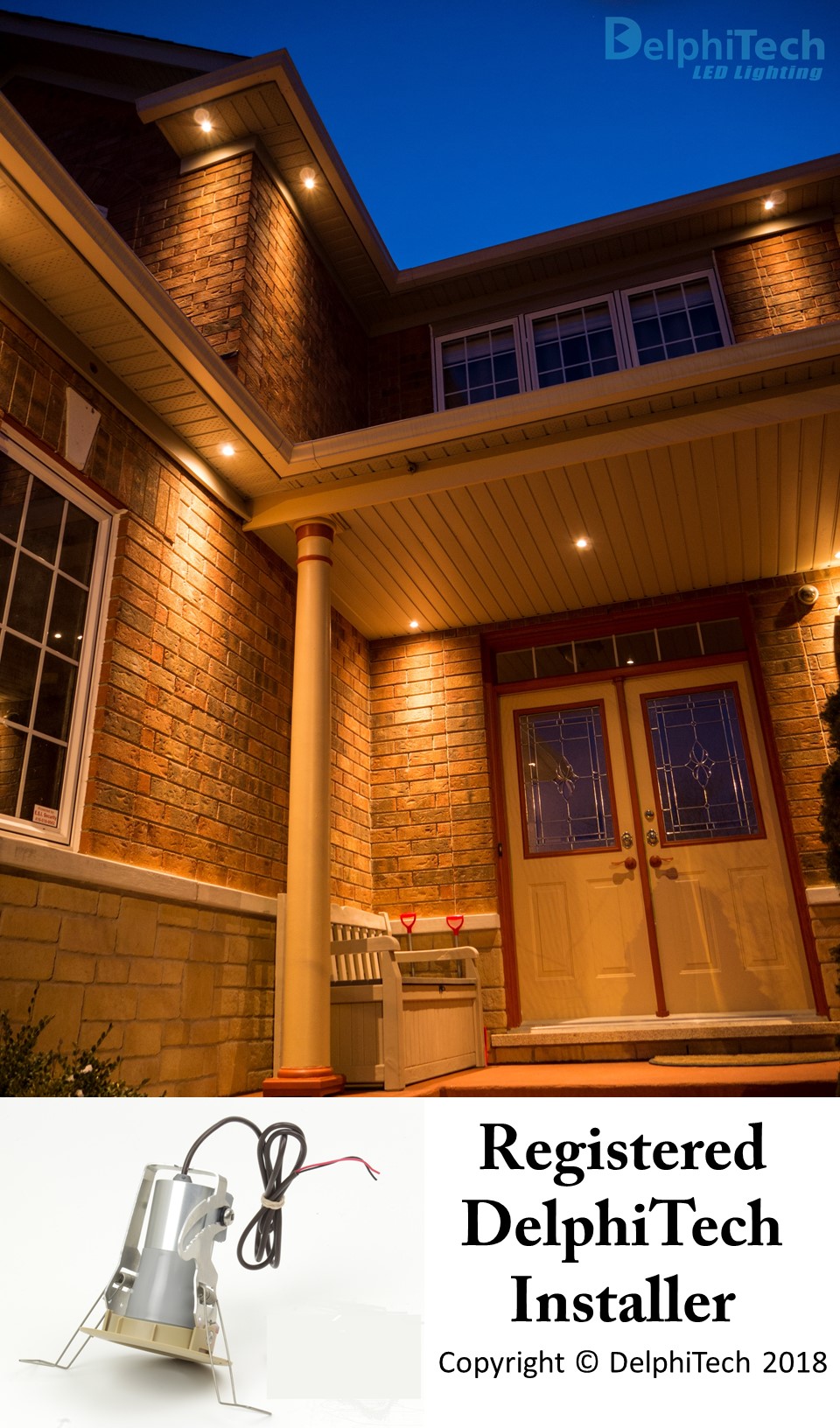 Note: DelphiTech owns its brand, logo, and images. Please respect the granted permissions above. Any other uses are NOT permitted without prior written permission.

Builders Applying for Green Programs
If you are a builder and are applying for any government grants regarding deployment of our lighting, we can provide you with facts about our Ontario made lighting and help you with calculations that might be needed for your application.

About DelphiTech History
Read the story of how DelphiTech's founder created our revolutionary LED lighting back in 2001, a world's first in putting the breakthrough white-light high-output LED technology on the outside of homes.