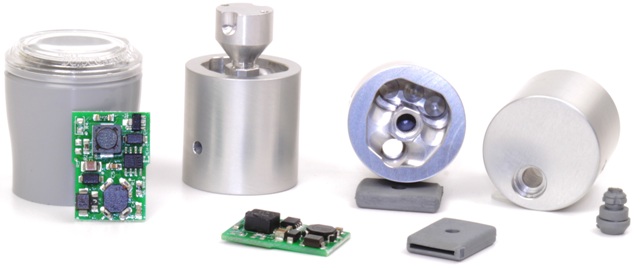 DelphiTech with our 15+ years of proven excellence is
the most trusted brand in compact LED outdoor fixtures
Question - How can your latest LED product last 180,000+ hours, when other LED product I'm seeing in the stores only claims to have a life from 15,000 hours to 50,000 hrs? Furthermore, yours are outdoor products and most of theirs are indoor products.

Answer - Unless you are buying high-end industrial LED fixtures costing hundreds of dollars each, the brands you are seeing in the stores and on websites have as their primary goal - HOW CHEAP CAN WE MAKE IT because they are battling on price.

DelphiTech has taken the opposite direction, HOW LONG CAN WE MAKE IT LAST. There are dozens of technical aspects of our design and component selection that work together to achieve extreme longevity. But here are 3 examples just so you can appreciate a small fraction of the detail we consider:

we use premium LEDs in our fixtures and also use LEDs that are capable of being run at more than triple the electrical current, whereas, other brands focused on price try and get the most light out from the fewest LEDs, hence they are running their LEDs at max current which drastically shortens the life and causes a much higher failure rate due to electrical stress. It is similar to the drastic shortening of life for an automobile engine when the car is always driven "red lined" at 7000 RPM instead of being driven around at 2300 RPM

we put a generous thermal heat sink on our fixtures machined from solid aluminum and anodize it too for increased emissivity and corrosion avoidance, especially in coastal regions, whereas, other brands try and minimize their heat sinks to the smallest and cheapest they can get away with, and this causes elevated temperatures on the LEDs and electronics inside. An independent test measured a well known brand of LED store product and found internal temperatures near the boiling point of water (95C) and under the same ambient conditions our product is only 45C - barely warm to the touch. Again, keeping the LED and electronics cool has a huge impact on life of the product and greatly reducing failure rate

we use military grade ceramic capacitors (same as would be found in avionic and satellite electronics) in our fixture circuitry, whereas, other brands are mostly using the cheap electrolytic capacitors. Electrolytic capacitors operating at elevated temperatures inside those bulbs and fixtures have a wet electrolyte paste inside that dries out in as little as 8,000 hrs causing the bulb or fixture to fail. The problem is made worse by hot climates and the elevated temperatures found in attics. Our capacitors (while 10X the cost of cheap electrolytic) will have the same performance even after 20 years of continuous use in those same conditions because there is nothing in them to dry out

Question - How easy is this to install?

Answer – Our lights are amazingly easy to install in both new construction and existing homes. This is a distributed lighting system with a power supply that plugs into a standard wall socket and a small wire that runs to various locations where fixtures are connected. Fixture wiring is all low voltage 12 VDC. You can wire the fixtures in 3 ways, tucking wire into the facia at the soffit, running the wire about the soffit, or wiring it from inside the attic. Call us for questions but if this is still too challenging for you, hire an installer.

Question - How much do your products cost?

Answer – Our product categories are contained in 9 images on the home page. Click on each for more product details and pricing. Contractors are eligible to get performance discounts too.

Question - How much is shipping to my home or business?

Answer – Shipping will be calculated based on weight and destination. Insurance is calculated on package subtotal value. You can get real numbers prior to checkout once you've setup your account or have entered your address at the checkout.

Question - Who can install this?

Answer - It depends where you live. DelphiTech provides a class II electrical product meaning both low voltage (12 VDC) and low power (5 Amp 60 Watts) and consequently has certain flexibilities that conventional wiring doesn't allow. In most provinces and states, a licensed trades-person or formal inspection is not needed. A few jurisdictions do require use of specialists or require inspections, or both. Contact your municipality to confirm the rules for class II electrical products.

Question – How long will it take to install?

Answer - Electricians and other installers that regularly install our product estimate the install time to be 2-4 times faster than conventional recessed lighting.

Question - Where are your fixtures made?

Answer - Our fixtures are manufactured in Ontario Canada.

Question - What is the fixture warranty?

Answer - Up to 7 years (84 months), unlimited hours use, fully transferable to future home owners with no paperwork. In particular, no matter what series of Projector fixtures, all fixtures get a 42 month unlimited hours warranty with a FREE product registration from our website. Enhanced and Enhance-Plus fixtures have a 60 month unlimited hours use warranty without registration. Enhanced-Plus Fixtures have a 84 month unlimited hours use warranty with registration on our website. See warranty terms for more information.

Note: Most LED bulb manufacturers have no warranties for insertion into any enclosure and their warranty details can be misleading if you inquire about the true warranty rather than look at their packaging assertions. Some of these bulb manufacturers go as far as to mix potential usage possibilities into a warranty area of their packaging but this is not the legal warranty. Consumers should be cautious of such practices.

Question - What do I do if my system stops working?

Answer - Call us first. Occasionally problems occur due to minor errors in the installation, but every once in awhile a component actually fails. If we can't get it going with a chat on the phone, the item will need to be returned for repair. At the bottom of this page you'll find a link to "Forms and Surveys". If you are logged in, follow the link and you will find a RMA (Return Material Authorization) request form. Fill it out to get your request formally logged, and we'll be in touch with details shortly, including how and where to ship.

Question - Where can I find the products?

Answer - You can buy from our online store. Registered installers may sometimes sell you product and they set their own pricing and may include certain services in their area as they see fit. We don't provide a list of registered installers but we will do a referral if you wish, provided there is an experienced registered installer in your area.

Question - What is the turn around time if I order from the DelphiTech Store?

Answer - DelphiTech fixtures are typically built to order. You can generally expect us to ship your order within 1-10 business days. If time is critical, please contact us.

Question - Where do you ship?

Answer – DelphiTech will ship anywhere in Canada or the continental USA.

Question - Are your products CSA/UL compliant?

Answer – Yes. DelphiTech is fully compliant with the appropriate CSA/UL specifications and an independent Nationally Recognized Testing Laboratory tests in Canada and certifies to those standards.

Question - Are your products Energy Star compliant?

Answer – Yes. DelphiTech fixtures meet or exceed Energy Star recommendations.

Question - Is my warranty transferable to the new home owner?

Answer – Yes. We require no paperwork - perhaps we are the only manufacturer in the world making lighting products that doesn't require paperwork for validating warranty.

Question – Can I use these fixtures in my RV or boat?

Answer – The extreme low power usage of our lighting system, it's wide operating temperature range, and it's immunity to shock and vibration makes DelphiTech well suited for use in recreational vehicles.

Question - How long have you been in business?

Answer - DelphiTech has been in business since 1996 and designing and manufacturing outdoor LED lighting since 2001. Our current product line is our 6th generation product line, each one more capable than the last, and yet from the beginning we designed things right as we still have our very first generation fixtures released in 2002 running on the outside of homes.