Meet DelphiTech's Inventor, Rodney McInnis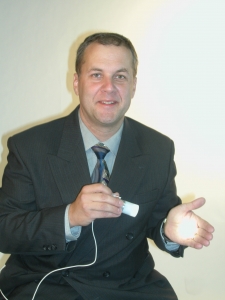 In 2001, Rodney McInnis, an electrical engineer and physicist, not being satisfied with outdoor lighting products in stores for under-eave/soffit mounted lighting, started designing an exterior LED lighting system for his own home that operated on 12VDC.
Over the next year, he experimented with the latest in white light LED technology and UV stabilized polymer lenses.
Rodney then created a miniature LED light that would be robust in the perils of exterior conditions, from arctic conditions to the tropics, and mountainous regions to coastal.
Here is one of the earlier news stories from DelphiTech's start: 2003 Eastern NA Blackout Story
The Evolution of the DelphiTech Product Line
DelphiTech's technical excellence in making the finest quality LED fixtures achievable is based on a no-compromise policy when it comes to the optimum design engineering, premium component selection, and detailed manufacturing quality.
While the first products were simple and robust (many systems from as early as 2002 are still in the field today with very satisfied customers), as more sophisticated versions of the product line were created, all three founding product values were maintained:
Compact fixture design for optimum placement, enabling the highest curb appeal
Easier to install than other products
Extreme durability lasting beyond any other LED product in a hostile exterior environment
Rodney's revolutionary DelphiTech fixtures are optimized to withstand the perils of outdoor conditions including repeated thermal cycling, UV, moisture, electrical surges, and corrosion so you have the highest performance product possible, with a superior temperature range and warranty too.
DelphiTech Spotlight
Here's another newspaper story appearing in the Ottawa Citizen in 2003:
DelphiTech's drive for product excellence in outdoor LED lighting is captured well in this recent profile initiated by StellarNet, who makes a spectrometer DelphiTech uses in the production testing lab. Click on picture below to read.